Learn more about the court process when Student Legal Services is representing you for a criminal misdemeanor or traffic citation.
Student Legal Services practices in several courthouses in Franklin County. Most criminal and traffic cases will be in Franklin County Municipal Court which is located at 375 South High Street, Columbus, Ohio 43215.   
There are several garages, surface lots, and streets for metered parking close to Franklin County Municipal Court.  
Franklin County Commissioner's Garage: 34 East Fulton Street

 
Columbus Commons Parking Garage: 55 East Rich Street

 
There are several entrances at the Judicial Complex.  The best entrance to get into Municipal court is the main entrance pictured below.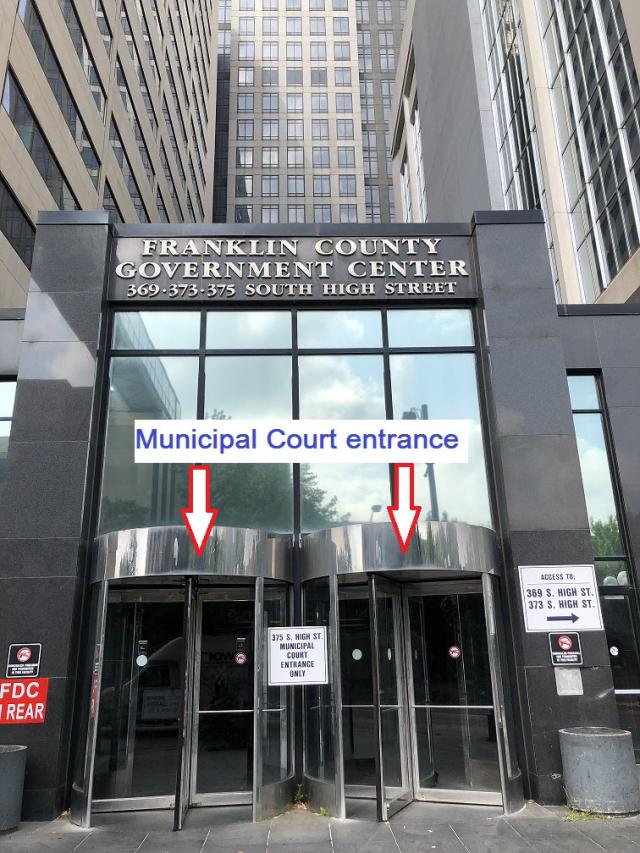 After you go through the main entrance, you will proceed through security at the next entrance into the court, pictured below.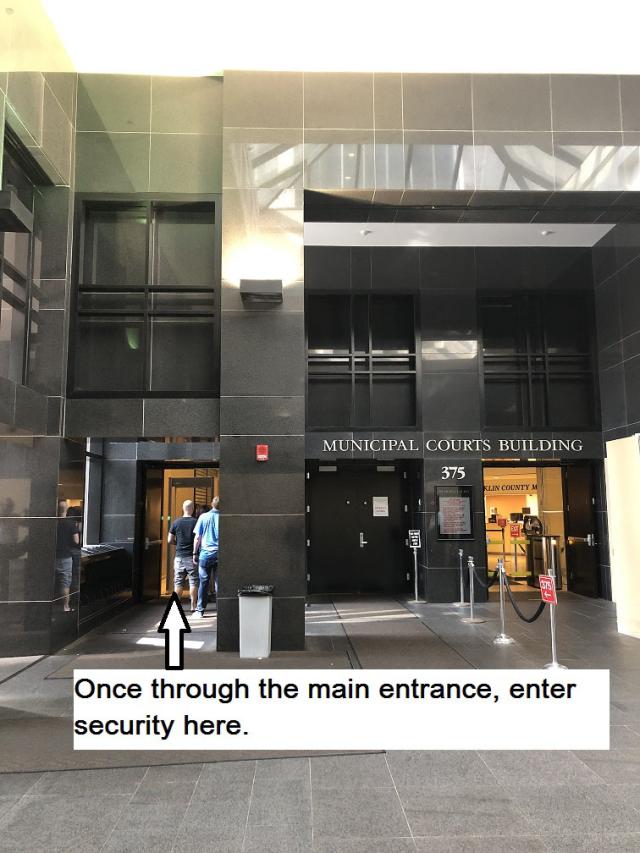 To pass through security, please do not bring weapons or anything that could be considered a weapon, like a pocket knife.   
Once through security, if you are going to Courtroom 1A or 1B, you will stay on the first floor and go toward the entrance to Traffic Courts, pictured below.  
If you are going to other floors, you will proceed to the elevator bank to get to your assigned courtroom, pictured below.  
There are two sets of elevators.  On the left are elevators to floors 9 to 18 and on the right are elevators for floors 1 to 9.  Here is a picture of the elevator banks: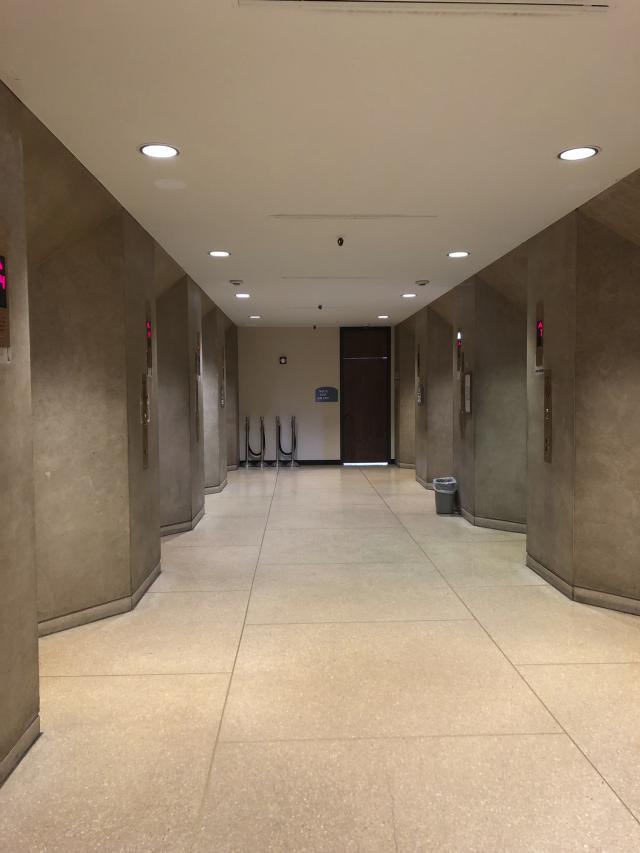 Your courtroom is listed on your ticket, or you can also find it on the Franklin County Municipal Court Clerk's website.  Search for your last name and first name to find your docket. Scroll down on the docket to the section titled Events and find the Ct.Rm. for the date you are attending.   
Arraignment Courtrooms: The misdemeanor arraignments are in Courtroom 4C, and the traffic arraignments are in Courtroom 1A or 1B.  In arraignment, please wait outside the courtroom for the SLS attorney to call your name.  If the court calls your name before the SLS attorney arrives, tell them you are represented by Student Legal Services and remain outside the courtroom for the attorney to arrive.  
Courtrooms on Floors 12, 13, 14, 15: In these courtrooms, check in with the prosecutor at the podium inside the courtroom.  Then, wait in the hallway outside the courtroom for the SLS attorney to arrive and call your name.  
SLS attorneys may be representing more than one student on your court date. Your attorney may be in another courtroom at the start time of your hearing. The SLS attorney has all of your information and will be with you as soon as the attorney needs to be there for the court hearing. Be patient, and wait for the attorney to call your name.   
Bring any documents required by your attorney.  As instructed, bring cash or credit/debit card to pay your fines and costs.  There is a 2.5% transaction fee when you use a card. For OVI charges, or other vehicle offenses, bring proof of insurance and valid license.  
Professional appearance is required. Dress like you are going to a job interview.  Do not wear shorts, short skirts, tank tops, halter tops, sandals, t-shirts with logos or pictures, athletic wear, jerseys, hats, leggings, snow boots / UGGs, or sweatpants.  
If you do not have professional attire, please inquire with your Student Legal Services attorney about our SLS Closet.  We may have attire you can borrow for your court appearance.
Be on time.  Be respectful of the court process and court personnel.  Do not chew gum.  Place electronic devices on silent and do not use them in the courtroom.  Do not talk in the courtroom unless asked to do so by your attorney or the court.  
If you are an Ohio State student and not already represented by an attorney, call Student Legal Services first thing in the morning.  Our office staff will check your eligibility for services and help you find the attorney in court that day.